Your visit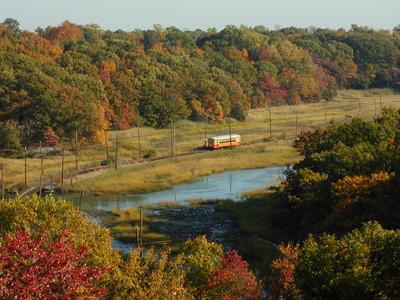 Your visit to the Shore Line Trolley Museum could last an hour, or last a day. The choice is up to you; there are many things to see and do at the museum.
Getting to the museum is easy and convenient. We're only 3 minutes from I-95 or US-1, just off the East Haven Town Green.
When you arrive at the museum, you'll buy your ticket in the Sprague Building, which is named after the "Father of Electric Traction,&quot Frank J. Sprague. Inside are numerous displays and hands-on exhibits.
Trolley cars stop frequently right outside the Sprague Building. Climb aboard and soon you'll be transported back to the turn of the last century! Your ride is unlike anything else you can experience in the fast-paced Northeast. Looking around the antique trolley car, sitting on a rattan seat, hearing the growl of the ancient electric motors and the squeal of the steel rails, you'll feel as if today were 1911, not 2011.
That feeling will only be augmented by the panorama which unfolds before you. The Historic Branford Electric Railway, surrounded by pristine salt marsh, is virtually unchanged by the passing of the centuries.
Your trolley will pause briefly in the hamlet of Short Beach, population 1500 (more or less), and then return to our main rail yard complex. There you'll be able to take a guided tour of many of the vintage cars in our collection. You may also explore the museum at your own pace. Take as many trolley rides as you like. Your tickets are good for the entire day and there are several different trolleys running on the line.
We hope you'll choose to visit us this season! Perhaps you'll be interested in supporting and becoming more involved with the museum by becoming a Member.
Ask about having your party on the trolley and group visits.