Have Your Party on the Trolley!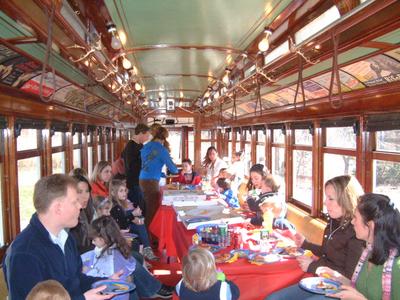 Each year, thousands of children and adults alike enjoy a birthday party or other special celebration aboard one of our antique trolley cars!
Your charter includes exclusive use of a trolley car, your own private motorman, one or more round trips on the museum's historic railway and time to enjoy cake and presents in a scenic setting.
Trolley parties are available year-round, weather permitting. The low price of $195 includes two hours use of the trolley car. Extra hours are $75 per hour. The trolley car will be available to you a half-hour before your scheduled party time to allow you to set up.
Advance reservations are required. A deposit may be required to schedule your event on a day when we are normally closed. Please book at least two weeks ahead. Ask us about group visits and other charter arrangements too!
To book a birthday party, please call the office at (203)467-6927, or email Office@ShoreLineTrolley.ORG