Loop Grows
Summer 2017
Slowly but surely, the new loop track is advancing. Here ties are being laid out.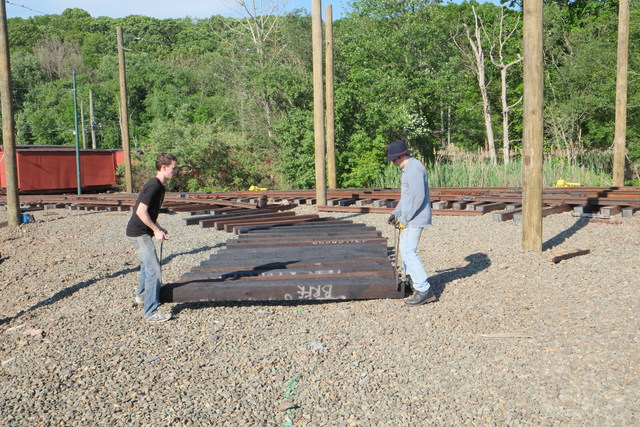 The loop track has a centerline radius of 90' and this requires a rail bend every foot to make a smooth curve. Note the "tick" marks along the rail to guide the positioning of the hydraulic rail bender. The bender needs to be approximately level and square with the rail. The 2x12 board and the adjustable support rod accomplish this.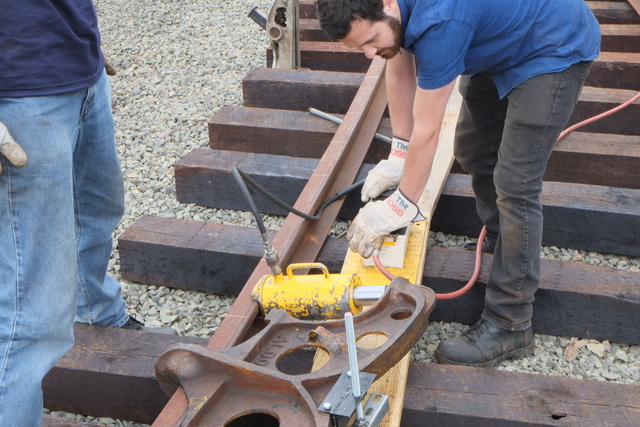 In this photo, the rail on the right has been completely bent, and progress on the left rail can be clearly seen.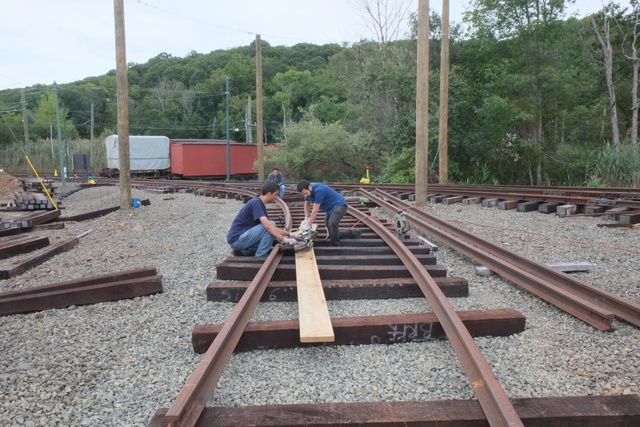 Wire Going Up!
Sep-Oct 2017
With the season of every-day operations over after Labor Day, there was time to take the main line out of service for a day to install a new trolley wire frog. Below we see the frog freshly installed. The branch to the left is the new lead crossing Narragansett. Trolley wire was strung here after this photo was taken.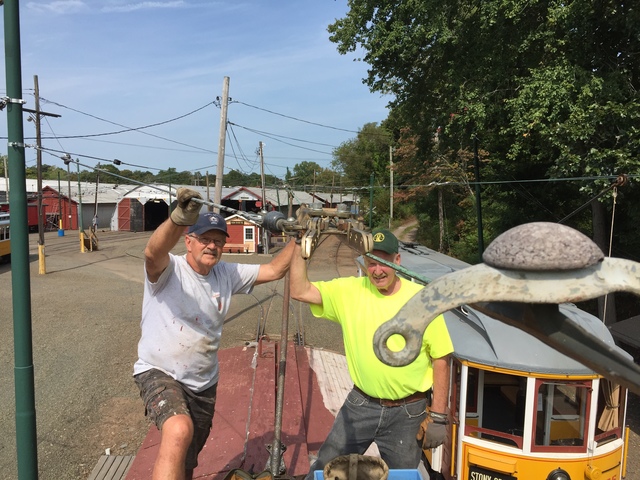 Now we see the wire crossing frog at Narragansett, with the new wire entering at the top right corner. To the left, a section insulator is being installed to isolate the power feed to the "new yard"


We need a knife switch to control this insulator. Here a knife switch is being reconditioned in the shop with a new handle and a new "snap" spring.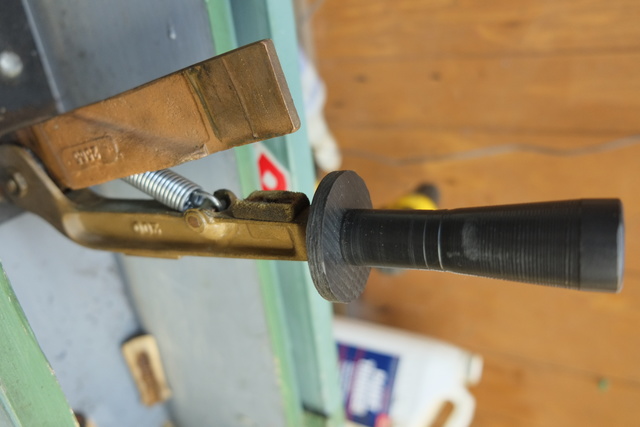 Before wire can be hung, the poles need to be back-guyed to prevent them from leaning in and causing the span wires to sag. Because of the large rocks in the soil, a contractor with a backhoe came in to excavate holes for ground anchors.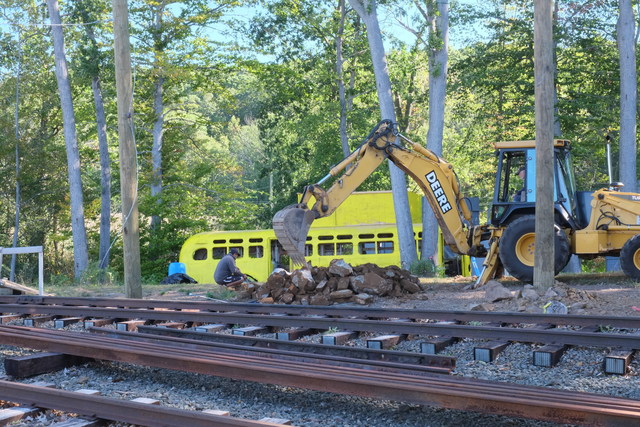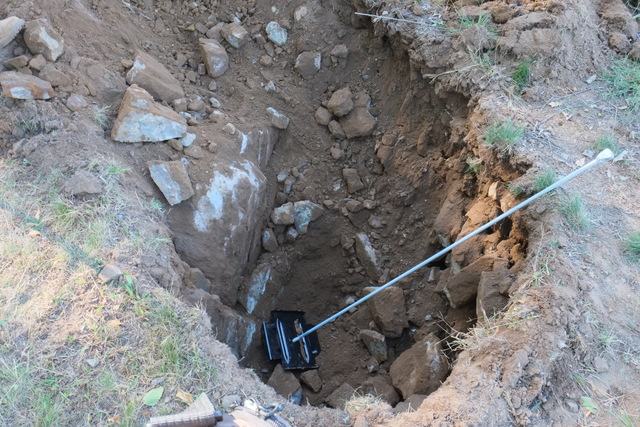 The guys are attached to the anchor by tensioning with a "come-along". A special tool was used to grab against the neck of the ground anchor.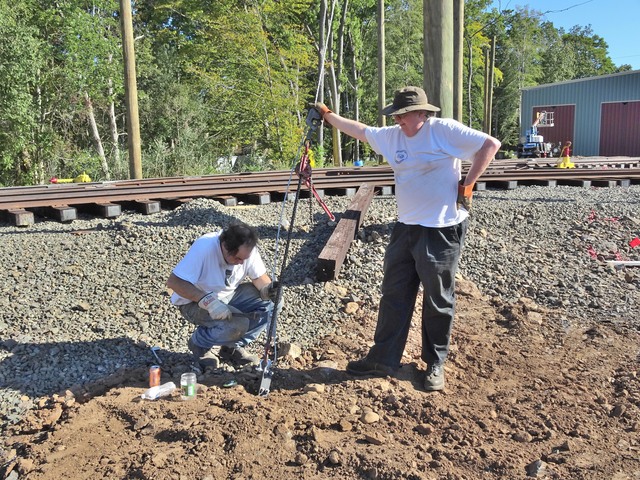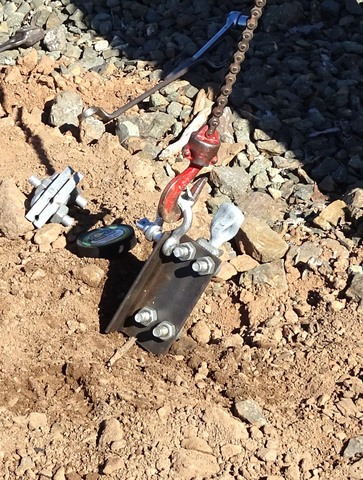 Now it was time to hang the first trolley wire, from the Narragansett crossing frog to the back end of track 82 in Building 8. Wire was run out on the ground and then temporarily fastened to each span from the bucket lift.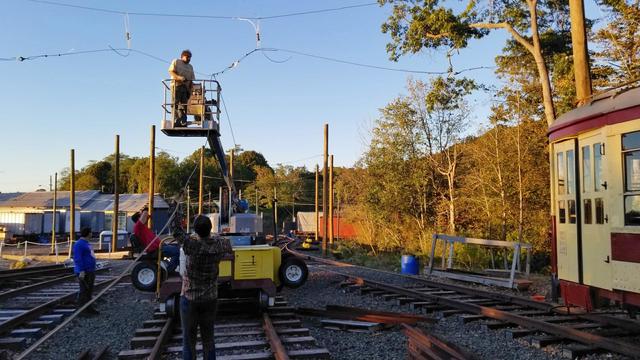 The next two photos show tension being applied at the end of the run, at the back of building 8. The trolley wire, on the left, is dead-ended with a turn back secured with a 3-bolt clamp. The tension is taken to the building frame with a pair of stranded steel cables, with two points of insulation in each.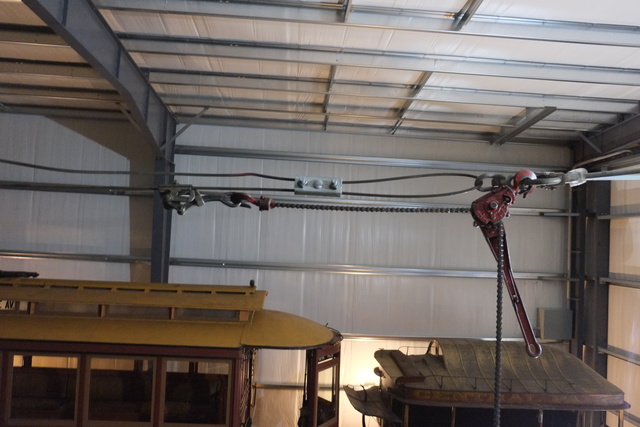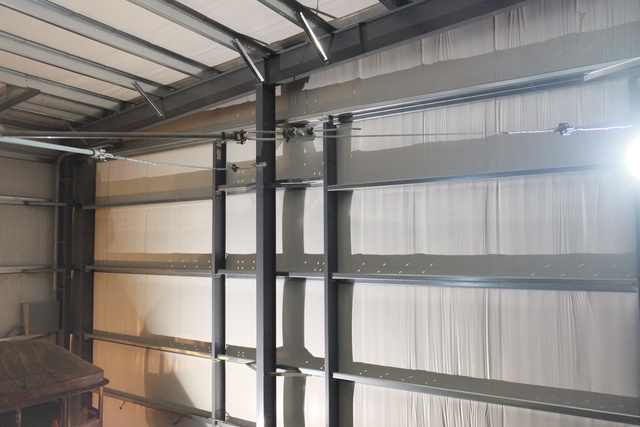 Line car 25 in the distance is up the ramp, replacing the temporary fasteners with permanent ears and hangers. The new trolley wire is prominent over the center of the track.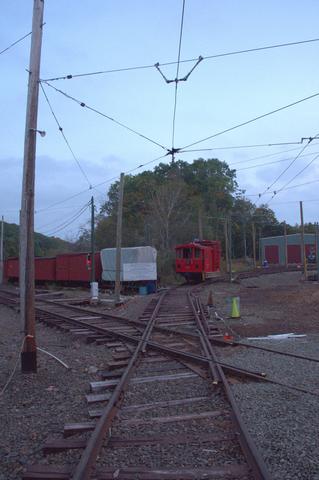 A view from the line car's platform at one of the type AGC hangers with building 8 in the distance on the left. The new loop track is seen curving off to the right.