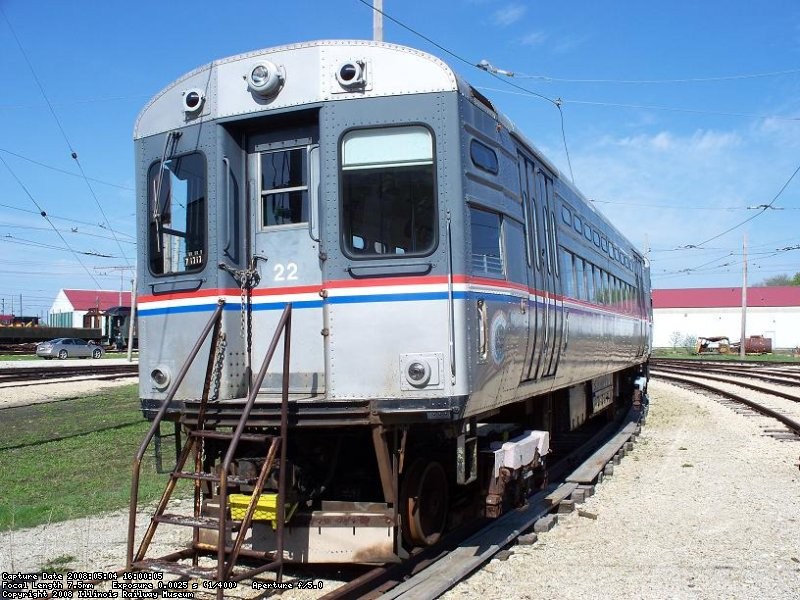 Illinois Railway Museum

Built in:1960 by St. Louis Car Company (ord#1804)
Out-of-service/Retired:1998 (1993)
Type of car:rapid transit car (PCC elevated car)
Current Owner:Illinois Railway Museum(Union, Illinois)

---
Car History by Frank Hicks





Chicago Transit Authority 22

Between 1950 and 1959, the CTA took delivery of 670 rapid transit cars of a type generally known as 6000's. The 6000's used modern PCC trucks and control equipment and nearly all extensively used remanufactured components from scrapped Chicago PCC streetcars, which lent them a distinctive look with their small standee windows. The first 620 cars were numbered 6001-6720 and were arranged in permanently-coupled ("married") pairs, but for the last fifty cars CTA chose a more traditional layout. The final 50 cars, numbered 1-50, were single units with an operating cab at each end and designed for one-man operation. This capacity for one-man operation suited the 1-50 series cars to more sparsely-used routes. Car 22 was originally assigned to the West-Northwest line, but in 1970 was reassigned to the Ravenswood line; by the 1990's it had been reassigned again, this time to the Evanston line. Retired in 1993 along with the rest of its series, car 22 spent most of the next five years in storage but did see occasional service. When the 1-50's were made available to museums in 1998 car 22 was bought by HLCS, a group planning to assemble a fleet of historic elevated cars on CTA property for the purpose of running fan trips. This did not pan out, and when HLCS folded in 2000 car 22 - still on CTA property - was bought by IRM and moved to Union. Since that time it has been in revenue operation at IRM.

---
Ownership History:Chicago Transit Authority #22 1960-1998 / 1st preserved by Historic "L" Car Society 1998-2000 / Illinois Railway Museum(Union, Illinois) 2000-present


---
Facts and Figures
Status:operated often
Gauge:4'8.5"
Construction:aluminum/steel
Roof type:AR
Ended:DE
Length:48'0"
Width:9'4"
Weight:46000#
#Seats:46
#Wheels/Conf.:8 (B-B)
Total HP:220
Trucks:St Louis B3
Brakes:Electric
Compressor:n/a
Motors:WH 1432LK (4)
Voltage (if not 600DC):
PHOTO
PHOTO