Manhattan Railway G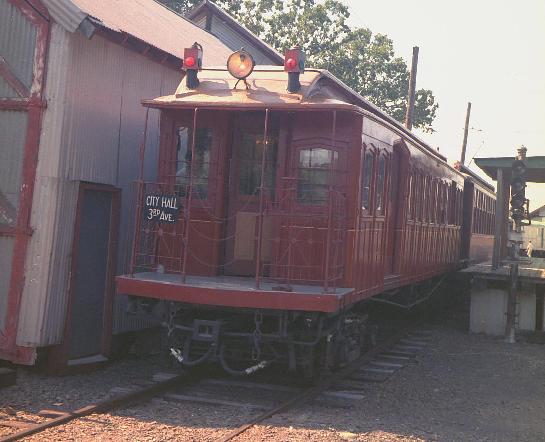 Branford Electric Railway Association

Built in:1878 by Gilbert Bush & Company
Out-of-service/Retired:1959 (1955)
Type of car:rapid transit car (money car control trailer)
Current Owner:Branford Electric Railway Association(East Haven, Connecticut)

---
Car History by Jeff Hakner & Frank Hicks





Manhattan Railway G

Car G is the oldest preserved North American rapid transit car. Its construction predates the first truly successful electric streetcar design by ten years and the first use of electric rapid transit equipment by nearly 15 because car G was built before the New York rapid transit system was electrified. It was ordered by the New York Elevated Railroad, which operated New York's first el, the 9th Avenue, as that company expanded by constructing the 3rd Avenue el. The car was numbered 41 and was hauled behind small Forney-type steam locomotives. Shortly after delivery, NYERR and its competitor Gilbert, which owned the 2nd and 6th Avenue lines, were merged into the Manhattan Railway company.

Circa 1893, the car was withdrawn from passenger service and re-numbered "G". There are conflicting reports that it may have been used briefly as a special car for bicyles, or for handling baggage, but it soon settled into the role it would have until retirement: distribution of tickets to the elevated stations and money collection.

Soon after the turn of the century the Manhattan Railway elevated lines were converted from steam to electric power, and in 1902 car G was made into a motorless control trailer. After that modification it survived to the end of its service life virtually unmodified. In 1955, with the closing of the elevated era in Manhattan, the car was taken out of regular service and put into storage. In 1959 BERA acquired car G. It has been cosmetically restored to its appearance in 1902, right after being electrified. It is also operated occasionally, using a Brooklyn Rapid Transit car for motive power. From 1998 to 2001 car G was on loan to the New York Transit Museum.



---
Ownership History:New York Elevated Railroad #41 1878-1879 / Manhattan Railway #41 1879-1893 / Manhattan Railway #G 1893-1903 / Interborough Rapid Transit #G 1903-1940 / New York City Board of Transportation #G 1940-1953 / Branford Electric Railway Association(East Haven, Connecticut) 1959-present


---
Facts and Figures
Status:operated occasionally
Gauge:4'8.5"
Construction:wood
Roof type:RR
Ended:DE
Length:45'0"
Width:
Weight:35000#
#Seats:n/a
#Wheels/Conf.:8 (2-2)
Total HP:0
Trucks:MCB
Brakes:AMP (M1)
Compressor:CP-14
Motors:
Voltage (if not 600DC):
---
Notes
Oldest preserved electric car in North America; rebuilt from coach to money car in 1893; later New York City Transit Authority #G (1953-1959)
PHOTO PHOTO