Illinois Terminal 1565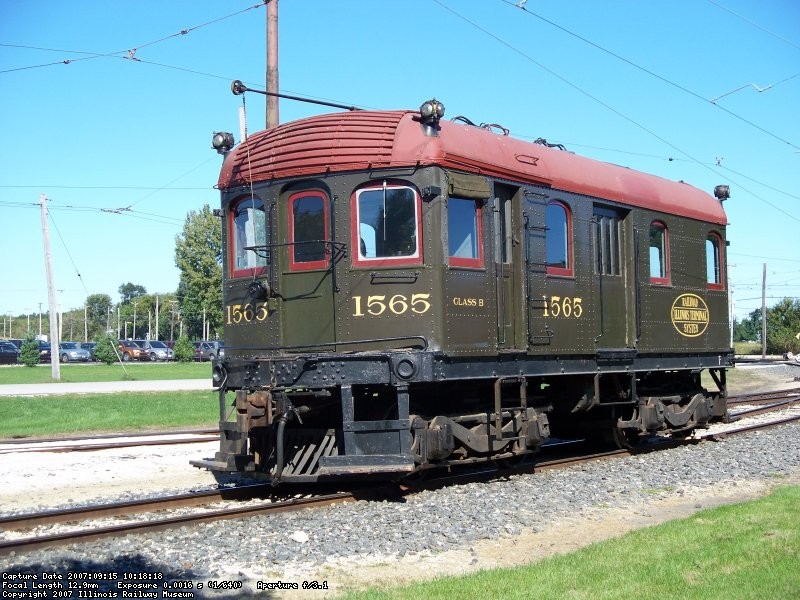 Illinois Railway Museum

Built in:1910 by Illinois Traction System
Out-of-service/Retired:1960
Type of car:locomotive (boxcab) (Class B)
Current Owner:Illinois Railway Museum(Union, Illinois)

---
Car History by Frank Hicks





Illinois Terminal 1565

The country's second largest interurban network was the Illinois Traction System - the McKinley lines - that stretched across much of the state of Illinois and lasted into the late 1950's. The ITS shops in Decatur, where literally hundreds of cars were maintained and rebuilt, was perhaps best known for the large fleet of boxcab locomotives that were designed and built entirely in-house. The earliest of these homebuilt units were the Class B's, of which the ITS built 18 between 1910 and 1918. One of two Class B locomotives preserved, and the only one still operational, is 1565, part of the first series of the type built. It operated in freight service across the ITS, and later Illinois Terminal, until it was sold to IPC during the dieselization of the IT's freight operations in the mid-1950's. IPC used it to switch the Champaign power plant for five years, but in 1960 it was bought by IRM where it was restored to its IT appearance. It is fully operational.

---
Ownership History:Illinois Traction System #1565 1910-1928 / Illinois Terminal #1565 1928-1955 / Illinois Power Company #90525 1955-1960 / Illinois Railway Museum(Union, Illinois) 1960-present


---
Facts and Figures
Status:operated occasionally
Gauge:4'8.5"
Construction:steel
Roof type:AR
Ended:DE
Length:34'0"
Width:9'3"
Weight:120000#
#Seats:n/a
#Wheels/Conf.:8 (B-B)
Total HP:800
Trucks:Alco RM63B
Brakes:14EL
Compressor:D4-P (2)
Motors:GE 69C (4)
Voltage (if not 600DC):
PHOTO
PHOTO