Cleveland Transit System 4223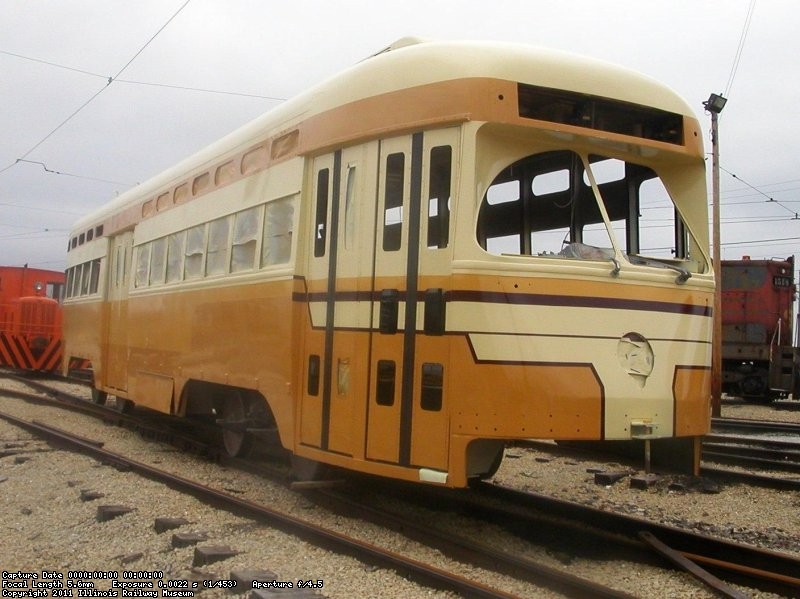 Illinois Railway Museum

Built in:1946 by Pullman-Standard (ord#W6750)
Out-of-service/Retired:1982
Type of car:streetcar (PCC, postwar)
Current Owner:Illinois Railway Museum(Union, Illinois)

---
Car History by Frank Hicks





Cleveland Transit System 4223

This is one of several Cleveland PCC streetcars that are preserved in museums, but is the only one that has seen major restoration work. Part of a series of cars built in 1946 by Pullman-Standard, 4223 was among the first PCC's to operate in regular service in Cleveland. It was built for multiple-unit operation but never had couplers installed. It only ran there for seven years, for in 1953 the entire PCC fleet was sold to Toronto. Car 4223 was the last PCC ever to run on the Cleveland streetcar system, on March 8 1953. After acquisition by Toronto, 4223 was renumbered 4648 and had couplers installed for multiple-unit operation. It ran in Toronto until retired in 1978, after which it was one of several cars sold to Greater Cleveland Regional Transit Authority for service on the Shaker Heights Rapid Transit line. It operated on SHRT for four years, until the new Breda light rail vehicles arrived and entered service. The car was then sold to IRM, which operated it for a short time before poor body and structural condition forced its retirement. During the mid-1990's a major rebuilding commenced, involving replacement of much of the car's structural steel; this rebuilding is still in progress.

---
Ownership History:Cleveland Transit System #4223 1946-1953 / Toronto Transportation Commission #4648 1953-1978 / Greater Cleveland Regional Transit Authority #4648 1978-1982 / Illinois Railway Museum(Union, Illinois) 1982-present


---
Facts and Figures
Status:undergoing restoration
Gauge:4'8.5"
Construction:steel
Roof type:AR
Ended:SE
Length:46'5"
Width:8'4"
Weight:39800#
#Seats:53
#Wheels/Conf.:8 (B-B)
Total HP:220
Trucks:Clark B2
Brakes:Electric
Compressor:n/a
Motors:WH 1432J (4)
Voltage (if not 600DC):
PHOTO
PHOTO