Connecticut Company 1414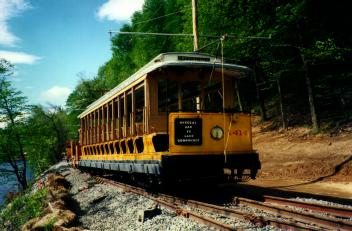 Branford Electric Railway Association

Built in:1911 by Osgood-Bradley
Out-of-service/Retired:1948 (1947)
Type of car:streetcar (open car, 15-bench)
Current Owner:Lake Compounce Amusement Park(Bristol, Connecticut)

---
Car History by Frank Hicks





Connecticut Company 1414

One of several surviving Connecticut Company open cars, 1414 was part of an order for over 100 identical cars built by Osgood-Bradley in 1911. ConnCo owned hundreds of these large open cars, using them all over its system, and ran them much later than most other street railway companies. Though open cars largely fell out of favor by the 1930's, ConnCo retained many to carry crowds to the Yale Bowl games in New Haven right up until the end of service in 1947. When BERA made its decision on which ConnCo cars to save after the system was abandoned, four of the big open cars - including two 1400's - were among the cars chosen to be preserved. Car 1414 ran at Branford for years, but in 1997 it was loaned to the Lake Compounce Amusement Park in Bristol. The country's first amusement park, Lake Compounce opened in 1846 and during the ConnCo years had streetcar service provided by cars like 1414. The rejuvenated park has a 1,800-foot streetcar line that 1414 operates on during the summer, typically carrying a quarter of a million people a year - far more than any other car in the BERA collection.

---
Ownership History:Connecticut Company #1414 1911-1948 / 1st preserved by Branford Electric Railway Association 1948-1997 / Lake Compounce Amusement Park(Bristol, Connecticut) 1997-present


---
Facts and Figures
Status:operated often
Gauge:4'8.5"
Construction:wood
Roof type:DR
Ended:DE
Length:42'0"
Width:
Weight:41500#
#Seats:75
#Wheels/Conf.:8 (B-B)
Total HP:160
Trucks:Standard O50
Brakes:Straight Air
Compressor:CP-27
Motors:GE 80 (4)
Voltage (if not 600DC):
---
Notes
Owned by Branford Electric Railway Association
PHOTO