The Collection of Robert and Frank Sprague

August, 1998




Frank J. Sprague

During the week of April 25th, Shore Line Trolley Museum Director George Boucher received a phone call from Jeanne Lee, secretary to John Sprague, the son of Robert Sprague and the grandson of Frank J. Sprague, a pioneer of electric traction. Ms. Lee informed us that papers and other material at the Sprague home in North Adams, Massachusetts, were in the process of being discarded. Understanding the historical significance of these items, she sought someone to take possession of them, and recalled our museum and the donation, made in the late 1950's by Harriet Sprague, wife of Frank J. Sprague, which enabled the construction of the Sprague building. To say the least, the museum was extremely pleased to receive this phone call, and made immediate arrangements to retrieve the items.

After Frank J. Sprague's death in 1934, Harriet Sprague turned over a substantial amount of material from his collection to the New York Public Library, where it remains today accessible to the public via the rare books division. The items that the museum received were evidently the collection of son Robert Sprague, and comprise a wide variety of material both from Frank J. Sprague's lifetime and after.

Included in the collection is an abundance of periodical articles and speeches that Frank J. Sprague wrote. Sprague was widely lauded by his peers and the collection also includes many items written by his contemporaries about him, as well as honors and medals that Sprague had received during his long career.
The collection also includes a wide range of books concerning electrical engineering and pioneer discoveries in the field of electricity, and a particularly large amount of biographical material on Thomas Edison, for whom Frank Sprague at one time worked and about whom Sprague developed a less than flattering opinion.
A sizable portion of the collection consists of patents that Sprague held, including some non-railway work that Sprague did such as electric toasters, electric signs, electric elevators and naval weaponry. There are some original drawings, and manuscripts with Sprague's handwritten notes.
Other items, while clearly not railway- or electricity-related, help establish a well-rounded view of Frank Sprague the individual. Sprague graduated from the U.S. Naval Academy at Annapolis, Maryland in 1878, and served in the Navy during the early 1880s. A small notepad from that period lists several names and addresses that he visited during a stopover in New York City in 1882. He maintained a strong interest and involvement in naval affairs throughout his life, as evidenced by the many naval photographs, articles and correspondence in the collection.
The museum received several glass plate photographs relating to work early in Sprague's career. While we believe that many of these images have appeared in print, we now have access to a higher quality original source.


Sprague's first M.U. installation was on Chicago's South Side Rapid Transit, 1897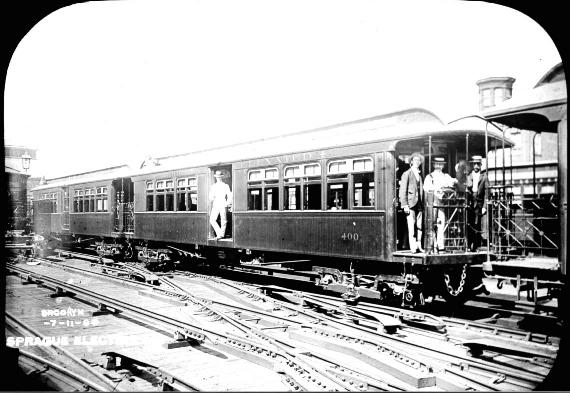 July 11, 1898. Brooklyn Union Elevated R.R. was another early adopter of Sprague's M.U. control. Car 400, seen here at Brooklyn Bridge Yard, was part of the first order of electric cars.
Finally, and perhaps most significantly, the museum received several mechanical artifacts such as motors, electric sign boxes and components of the Sprague Automatic Train Control System. The oldest item is a small 220 VDC stationary motor, with a nameplate dating it to 1884. This would make it the earliest Sprague motor known to be preserved. Watch for a future article on this motor, and the work that is ongoing to restore it.

A drawing from Electrical World magazine illustrating a slightly later version our newly-acquired 1884 Sprague motor
This collection of documents, images and artifacts is a wonderful illustration of the life of Frank J. Sprague. The museum is most grateful to the Sprague family for its donation.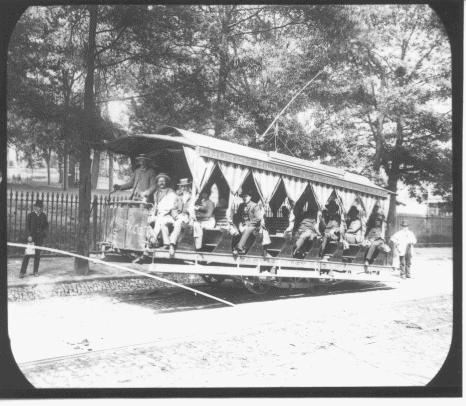 The first successful electric streetcar system was installed by Frank Sprague in Richmond, VA, 1888. Here we see a Richmond car climbing a hose jumper, which allowed firemen to run hose across the trolley tracks. The curved white line in the lower left is a defect in the plate.
---
The Shore Line Trolley Museum
17 River Street
East Haven, CT 06512
(203) 467-6927




[ Home ] [ About The Museum ] [ Donate! ] [ The Collection ] [ Membership ] [ Guest Operators ] [ Volunteer ] [ Site Map ] [ Members Only ]


This material is copyright © 1997-2020 Branford Electric Railway Assoc. All rights reserved.
Last Updated: /articles/sprague.in modified at Fri Aug 14 03:50:50 1998
Comments-To: webmaster@bera.org