New Haven Streetcars Book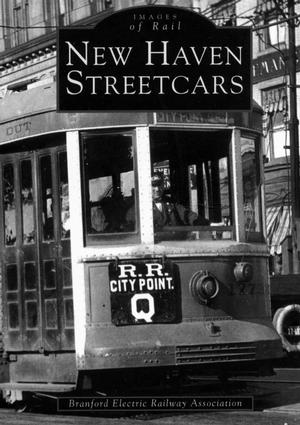 The museum's new book New Haven Streetcars is a tremendous success, generating considerable publicity and already selling out the first pressing.

Work on this 128-page book began during the winter, after the museum was approached by Arcadia Publishing about authoring a book as part of their Images of Rail series of local history titles.

New Haven Streetcars is a pictorial guide to the New Haven Division of the Connecticut Company. Starting at the center point of the system, at Church and Chapel streets, the book takes the reader along the various lines that radiated from New Haven, to the southwest, to the west, to the north and to the east.

Ultimately, the book would include over 200 photographs. Many were selected from the museum's library collection by Mike Schreiber, the museum's librarian and archivist, who served as editor for this project. To fill in the voids, Mike called upon John Koella and George Baehr. John, who is one of the founding members of the museum, took many photographs of the system in the 1940s. George, a retired professor of history at Fairfield University, has been studying and collecting pictures of the Connecticut Company for many decades. Both contributed photographs from their personal collections as well as information.

The aspect of the book which has received the most positive feedback is the detailed annotation of each photograph with historical facts about the street or neighborhood in which it is set. For example, in describing a picture of a State Street horsecar, the caption notes
The main streets of colonial New Haven were two creeks that flowed into the harbor at Water Street. Neck Lane followed East Creek northward to the Neck Bridge over the Mill River. At the end of the 18th century, Neck lane was incorporated into the Middletown Turnpike. When the tolls were eliminated, the road became State Street, one of the city's principal thoroughfares.
George Boucher, a lifelong resident of the New Haven area, was called upon to help identify street locations for previously unidentified photos. Where George didn't know or wasn't sure, he drove around town until he could make a positive identification.
All 4 authors: John, Mike and the two Georges, were present for the debut and book-signing ceremony on August 20th at the Barnes & Noble in North Haven. Many museum members were present, but more significantly, many of the general public as well. The manager of the store commented that this book-signing drew considerably more attendees than usual. One could readily see the appeal of the new book as people young and old found a picture taken in their neighborhood and reflected on what has changed and what has remained the same after so many generations.
The book received feature article coverage in the New Haven Register and the East Haven Courier. George Boucher appeared live on the Channel 8 WTNH morning show on August 31st. A panel discussion with the 4 authors is scheduled for Wednesday, October 15th, 6:30 P.M., at the Hagaman Library on Main Street in East Haven.
When the museum's store sold out, a phone call to Arcadia publishing to place another order informed us that the initial pressing of 1000 copies was completely sold out and another print run was underway. By the time this issue is in the readers' hands, more copies should be on our shelves. If you do not yet have your copy, we'll be happy to accept your order. Please contact George Boucher at the museum's main telephone number of (203) 467-6927.
All royalties from the sale of the book are earmarked to help fund ongoing restoration of Connecticut Company cars.