June 1998

A multi-way trade involving two museums, a public transit agency, and a car builder transpired during the winter and spring of 1998, in which The Branford Electric Railway Assoc. (BERA) received a functional DifCo crane and in exchange the Baltimore Streetcar Museum finally got Baltimore crane 3715.

Those who have been around the Shore Line Trolley Museum for a few years know W-3, our 1929-built Differential Steel Co. all-electric trolley crane, which came to us from Montreal Tramways in 1963. They know that W-3 is used all year round, for anything from picking up ties to towing cars. Those who have been around quite a bit longer will remember the days when Branford did not have a crane, and all these tasks which we now take for granted had to be done by grunt, sweat and elbow grease. They remember that September day in 1956 when crane car #3715 arrived from Baltimore. Suddenly, new barns started going up, rails and ties were changed out, new line poles were set!

3715 was made by the Industrial Brownhoist company in 1913, and was owned by United Railways and Electric, later known as Baltimore Transit. This type of trolley crane, known simply as a "Brownhoist", is essentially a trolley flat car with a mechanical crane mounted on one end of the deck. As built, 4 Westinghouse 101 motors propelled the car itself, with a 5th motor inside the tub of the crane. Through a complicated system of clutches, gears, pedals and levers, this single motor powers all 3 crane functions: swing, elevation and hook.

The Brownhoist crane was by far the most popular crane among trolley companies. In the mid-1920s, a competitor crane emerged with a greatly advanced design. Made by the Differential Steel Co., later known as "DifCo", this was an all-electric crane. Individual electric motors, each with a drum-type rheostatic controller, power the 4 crane functions: Swing (the boom and tub can rotate 360 °), elevation (the boom can be raised or lowered 30 ° above or below horizontal), hook up/down, and travel, a helpful feature which allows the position of the hook to be traveled along the length of the boom. All of these operations can be underway at the same time, although safe operating practice dictates limiting the number of operations to less than or equal to the number of appendages one has free to operate the handles.
All in all, the Differential crane was vastly superior to the Brownhoist. However, trolley times were tough, and only a dozen or so Differential cranes were ever built. One never left the carbuilder. In 1926, Differential built, under factory order number 649, a crane which they used as a "demonstrator", in other words, a showroom model. This crane was also used as a utility vehicle, hauling short trains of freight cars between the Differential plant and their freight siding, and to hoist materials.
Several years later, in 1929, a single Diffy crane shipped to Montreal Tramways, W-3, which BERA acquired in June of 1963. Its versatility and ease of use quickly made it the crane of choice, relegating 3715 to backup duty. The occasional heavy job made it clear though that two cranes were better than one. Alas, 3715 over time wore out and broke down. The last major blow was a gear failure which made the swing function inoperative. With considerable time and money needed to restore the crane, it sat unused, and in recent years its deck obeyed the law of diminishing flat surfaces as various heavy metal objects were stored on it.
The Baltimore Streetcar Museum (BSM) has a collections policy that is clear and concise: Baltimore, Baltimore and only Baltimore, so it is only natural that they sought 3715. The Baltimore system is wide gauge, very wide, 5' 4 1/2 " in fact. When 3715 came to Branford, the Baltimore-gauge Brill 27G2 trucks were taken off and replaced with a set of Wason arch-bar trucks which came from a scrapped ConnCo work motor. The 4 WH101 motors that came with 3715 were removed from the trucks and stacked neatly in Barn 1.
BSM had inquired after 3715 several times, but BERA did not want to part with it and be left with only a single crane. BSM did get part of 3715 though, when 3715's original trucks, sans motors, went down to BSM for a restoration of a different car. And there things sat for many years.
The impetus for this large trade was a single Westinghouse 306CV motor. BSM was in need of just one of these for a restoration project. A BERA member became aware of the existence of one in the possession of the San Francisco Municipal Railway. During a phone call to BSM, the issue of 3715 was discussed.
Meanwhile, back in Findlay Ohio, the game was afoot. The DifCo demonstrator, about which several museums including Branford had inquired over the years, had become available. The crane had been in active service until 3 or 4 years ago, when DifCo purchased a small diesel switcher to replace it. The crane lost its indoor storage spot. Last year, DifCo, which had remained a family business, was bought out by Trinity Corporation, and the new management wanted "that junk out of there". Here was an opportunity to turn a unique deal! When the steel dust finally settled, the scorecard read as follows:
BSM purchased the DifCo crane on BERA's behalf and sent it to us. BERA sent 3715 to Baltimore, minus trucks (BSM had no interest in those "narrow gauge" trucks). BERA traded a pair of WH514 motors and one G.E. CP27 compressor to San Francisco Municipal Railway, in exchange for one WH306CV motor, which BERA sent to BSM, and a pair of WH510 motors (spares for Toronto Peter Witt #2898). BSM in turn sent BERA a pair of PC5 switch groups, one WH307 motor (spare for N.J. Public Service #2431), and a CP127 compressor (a higher-capacity version of the CP27, good for Philly Master Unit #84). Speaking of Philadelphia, their broad gauge of 5' 2 1/4" is close enough to Baltimore's 5' 4 1/2 " to be rather useful to BSM. BERA sent 6 Philly wheel/axle sets as well as a Philly sweeper truck (minus motors) to BSM, in exchange for 4 standard-gauge, streetcar-profile wheel/axle sets (3 of which have WH305 motors still attached) which, in fact, came from DifCo. Got that?
All this was, in accordance with Board policy, "at no cost to BERA". Per the bylaws, Director, Sustaining and Supporting members had been notified by mail of the special meeting, held on February 14th 1998, to consider the de-accession of 3715. Several members attended the meeting and expressed favorable opinions concerning the trade. The board then voted unanimously to de-accession the car and trade it to BSM.
BERA wanted to give BSM a complete car, as they intend to do a thorough restoration of it. About a month was spent locating parts that had been separated from the car, including a VanDorn-style radial coupler, a controller and brake valve from the #2 end, the four original WH101 motors, and miscellaneous small parts. 3715 had also become a storage flat and its deck needed to be cleared for action. BERA members brought W-3 up next to it and transfered four traction motors, two switch groups, an R-17 motor-generator set, W-3's boom extender and various other "light" (under 1 ton) parts to W-3. 3715's deck got a good broom job and was clean probably for the first time since it was acquired. Ongoing efforts over the past few years to containerize our spare parts inventory meant that these items had a safe, dry place to reside.
On April 1,1998, two trucks arrived in front of Sprague. One contained the body of the new crane, the other its trucks and some spare parts which Trinity-DifCo threw in. The next day, yet another crane arrived on the property, this time a big construction crane. It made short work of setting the two trucks down on the track in front of Sprague, then lifting the crane body off the trailer, allowing the trailer to be pulled away, and setting the crane down on its trucks. W-3 then came up to Sprague and towed its cousin into the carshop.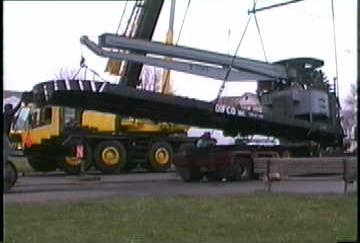 The DifCo crane is hoisted off the flatbed truck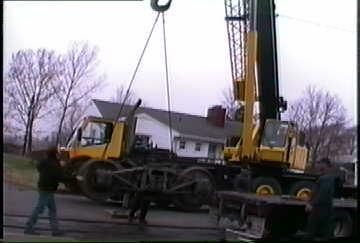 The trucks for the DifCo crane are unloaded from the second flatbed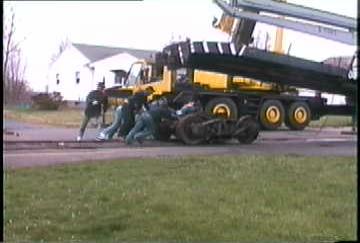 Volunteers line up the DifCo crane's trucks under its bolsters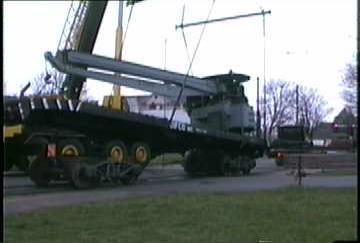 The DifCo crane is lowered onto its trucks
Moments later, car 3715 completed its last trip down Branford rails with representatives of BSM at the handles. Some adventurous souls crawled beneath and carefully disconnected the brake rigging and motor leads. Then the big crane hoisted 3715 off its trucks. The trucks were rolled out from under the car and the trailer backed in beneath it. 3715 was set down and W-3 towed the trucks back to the yard for storage.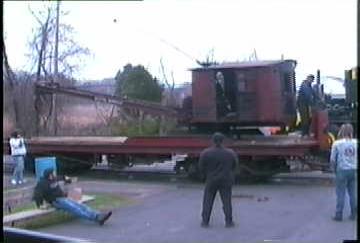 Baltimore crane #3715 takes its final trip on Branford rails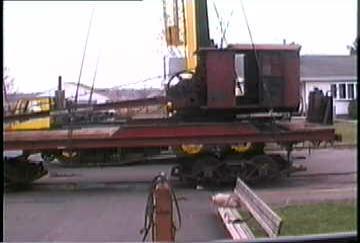 3715 is lifted off its trucks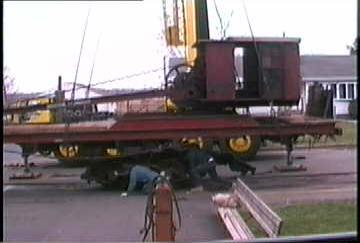 3715's trucks are pushed out from under it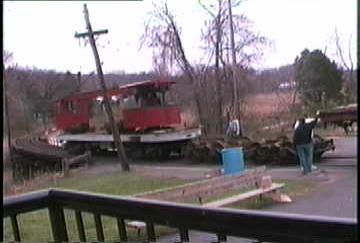 The otherDifCo crane, Montreal Tramways W3, hauls off 3715's trucks
3715 made the trip down to Baltimore where, we have learned, it has had much care lavished upon it. One BSM member has been saving a special grease gun all these years, waiting to welcome the crane back home.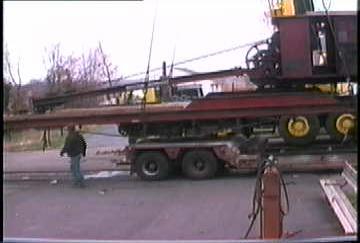 3715 is lowered onto the flatbed and taken down to Baltimore
Meanwhile, back in our shop, the gang has been working on the new car. This might very well be the first time that a railway museum has taken delivery of a car straight from the car builder (if anyone knows otherwise, please write). With the crane we also received boxes of paperwork, including complete drawings for the car, and shop records which shed some valuable light on the car's history.
By far, the biggest debate to date has been what to call the new crane. The leading candidate is "649", the factory order number under which the crane was constructed. The next raging debate will be over paint, as at least 3 different paint schemes have been found under the current battleship grey.
Stay tuned....this story will continue next month.
---
The Shore Line Trolley Museum
17 River Street
East Haven, CT 06512
(203) 467-6927




[ Home ] [ About The Museum ] [ Donate! ] [ The Collection ] [ Membership ] [ Guest Operators ] [ Volunteer ] [ Site Map ] [ Members Only ]


This material is copyright © 1997-2020 Branford Electric Railway Assoc. All rights reserved.
Last Updated: /articles/cranept1.in modified at Fri Aug 14 04:38:50 1998
Comments-To: webmaster@bera.org