Car 855 becomes an Eagle Scout project
Connecticut Company #855 is a familiar sight to those who come to the museum via I-95 northbound. On display in front of the Holiday Inn Express just off the exit ramp, 855 is a car body shell that has for many years been off the property, on loan to the town of East Haven as a Tourist Information Center.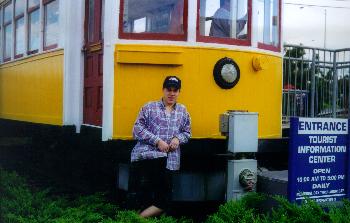 Michael Mohler stands before his Eagle Scout Project, ConnCo 855. G. Boucher photo.
Time and weather take their toll, and 855 was in need of some work. Mayor Joseph Maturo, East Haven C.A.O. Art DiSorbo and Joe D'Albero of the East Haven Town Council saw this as a great opportunity for youth involvement. Joe, Ned Taylor, Scout Master for Boy Scout Troop 401, and Assistant Scout Master Paul D'Albero arranged for Michael Mohler's eagle scout project to be the repair of 855's exterior.
Michael and his buddies spent a few weekends on the car and it looks 100 times better! They installed new side sheathing which was donated by East Haven Builder's Supply and applied the paint donated by Goody's Hardware. Next season Joe would like to tackle the window sash and lettering, and he is planning a tutorial session at the museum to study sister car 865 which is currently being restored.