Open Car 1425 Displayed at Yale Bowl

During the summer, the museum received an inquiry from Yale University concerning their tercentennial celebrations. Would we be willing to display an open trolley car at the Yale Bowl? Of course, we were very pleased to be given this opportunity. Within a month, open trolley 1425 was being loaded onto a trailer for the short trip to Yale Bowl.

Open trolleys were a symbol of a bygone era, before automobiles and air conditioning, when a ride on an open breezer was the best way to pass a summer day. The New Haven area was unique in having a substantial fleet of large open trolleys which survived fairly late into the trolley era. This was to accommodate the large football crowds at Yale Bowl. The last operation of the Yale Bowl opens was on Thanksgiving Day, 1947. All trolley service in New Haven (and indeed in all of Connecticut) ceased the following September.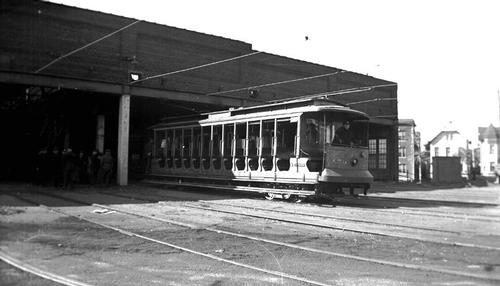 Many years ago, 1425 pulls out of the barn at James Street. Loitsch collection
There were many tents set up at the bowl on October 5 for the celebration, but our open trolley was clearly the center of attraction. People of all ages stopped by to pause, play, ponder and remember. One older gentleman even turned in $2 in fares which he dodged in 1947! Over 25,000 Yale alums and friends saw the trolley on that Friday and on Sunday, when the Yale-Dartmouth football game was played at the bowl.
Sadly, although 1425 looks great, it does not carry passengers at the museum. The open trolleys were not well-maintained towards the end of their careers, and 1425 is mechanically exhausted. The museum needs about $50,000 in funding to restore 1425 to operating condition.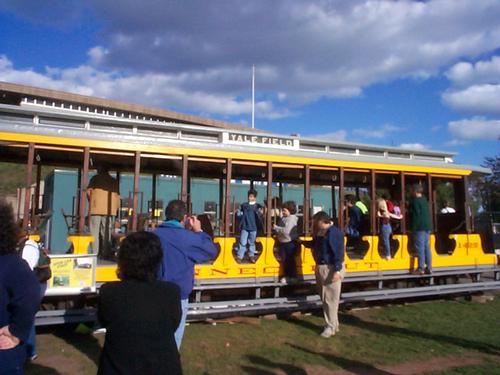 Open trolley 1425 at the Yale Bowl, Oct 5 2001. G. Ernest Anderson
The museum appreciates this opportunity to once again work with Yale University and we look forward to future projects together.
---
The Shore Line Trolley Museum
17 River Street
East Haven, CT 06512
(203) 467-6927




[ Home ] [ About The Museum ] [ Donate! ] [ The Collection ] [ Membership ] [ Guest Operators ] [ Volunteer ] [ Site Map ] [ Members Only ]


This material is copyright © 1997-2020 Branford Electric Railway Assoc. All rights reserved.
Last Updated: /articles/1425-yale.in modified at Sun Oct 14 23:20:58 2001
Comments-To: webmaster@bera.org